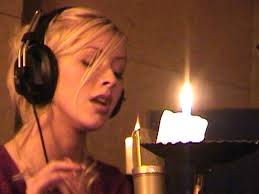 The Christmas Song (Chestnuts Roasting On An Open Fire) is a Christmas song wrote by Mel Torme and Bob Wells in 1944, it was recorded in 1946 and again in 1953.
Christina Aguilera recorded a version of this song for her fourth album My Kind of Christmas.
Chart performance
The Christmas Song failed to reach the top 10 in any chart and only reached the top 20 in America peaking at 18. It also gained a position in Canada peaking at 22.
Release information
Four different versions of The Christmas Song were released in November 1999 on the 23.
Version one:
Release date: 23 November 1999
Label: RCA-07863 65943-2
Format: CD
Country: US
Genre: Christmas
Tracklist:
Version two:
Release date: same^
Label: RCA-RDAB-65942-1
Format: Vinyl, 12", Promo, Red
Country: same^
Genre: same^
Tracklist:
A1
The Christmas Song (Chestnuts Roasting On An Open Fire) (Thunderpuss 2000 Holiday Remix)Remix – Thunderpuss
3:59
A2
The Christmas Song (Chestnuts Roasting On An Open Fire) (Thunderpuss 2000 Holiday Remix - Club Version)Remix – Thunderpuss
8:00
A3
Christina's Christmas Greeting #1
0:06
A4
Christina's Christmas Greeting #2
0:11
B1
The Christmas Song (Chestnuts Roasting On An Open Fire) (Thunderpuss 2000 Dub Mix)Remix – Thunderpuss
9:50
B2
The Christmas Song (Chestnuts Roasting On An Open Fire) (A Capella)
4:02
B3
What A Girl Wants (Radio Version)Mixed By – Dave WayProducer – Guy Roche
3:20
Version three:
Release date: same^
Label: RCA-RDJ65900-2
Format: CD, Single, Promo
Country: same^
Genre: same^
Tracklist:
1
The Christmas Song (Chestnuts Roasting On An Open Fire) (Thunderpuss 2000 Holiday Remix)
3:59
2
Christina's Christmas Greeting #1
0:06
3
Christina's Christmas Greeting #2

0:11