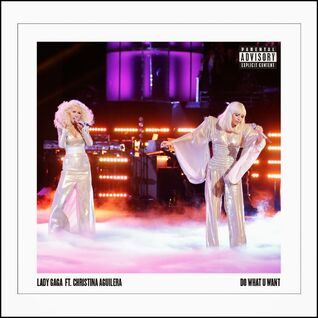 "
Do What U Want
" is a song by American singers 
Lady Gaga
 and R. Kelly. The song was released to digital outlets on October 21, 2013 as the second single from Gaga's third studio album 
Artpop
 (2013). The singers wrote the song with DJ White Shadow, Martin Bresso, and William Grigahcine. DJ White Shadow first presented Gaga with the song's initial concept two years prior to its release. The song's production was completed in 2013, with Kelly's vocals added soon after. A snippet of "Do What U Want" premiered in a Best Buy/Beats by Dr. Dre commercial on October 17. Warm reception from fans and music critics led to its release as the album's second single.
It is a synthpop and R&B song featuring 1980s-style synthesizers and an electronic instrumental track. The song's lyrics represent themes of sexual submission, with Gaga telling detractors that her thoughts, dreams, and feelings are her own, no matter what one does with her body. Critics praised the song's simplicity, production, and commercial appeal. The single cover for "Do What U Want", a close-up of Gaga's buttocks in a floral thong, was photographed by Terry Richardson who had also directed the song's music video, which was planned to be released through BitTorrent in December 2013; the release was cancelled due to unknown circumstances.
"Do What U Want" achieved top-ten peaks on the record charts in Canada, South Korea, and several European countries, and peaked at number 13 on the US 
Billboard
 Hot 100. Live performances of the song were televised on the 2013 American Music Awards, 
Alan Carr: Chatty Man
, 
Saturday Night Live
, America's 
The Voice
, and Britain's 
The X Factor
. Several remixes of the song were released, including ones with vocals from Christina Aguilera and Rick Ross.
Music Video
Edit
Gaga confirmed the director during her ArtRave party, along with Kelly's presence in the video and spoke about their "chemistry". Richardson and Gaga had previously shot the "Cake Like Lady Gaga" snippet video, featuring the singer playing with cake. He had been wanting to do music videos for some time, and started his work in the medium with the video for Miley Cyrus' single "Wrecking Ball" and Beyoncé's "XO". After her provocative performance of the song on Saturday Night Live, many interviewers had questioned Gaga regarding her chemistry with Kelly, leading the singer to tweet the following message: "Many interviewers quelped today about my 'SHOCKING' performance w/ R Kelly on SNL I'm beginning to think y'all aren't ready for the video."
On November 26, 2013, Interscope announced that the video would be released through file sharing service BitTorrent and Vice, sometime in December 2013. This is BitTorrent's second initiative, following a similar release for singer Madonna and her secretprojectrevolution video. The bundle would consist of the music video, pictures, a separate clip in 4K resolution documenting the making of the release, and interviews with Gaga and director Richardson. Interscope described the bundle as a means of "explor[ing] the link between open expression and open technology; providing an inside look at the creative process, with original film, music, archival content and behind-the-scenes footage direct from artists."
On December 4, 2013, Gaga tweeted that she was intent on making the video "perfect" since it was unlike her previous endeavors, adding that it was "very personal". Two days later, Richardson posted a black-and-white photo from the set of the video, which showed Gaga being held by Kelly; with her legs wrapped around his waist. She wore nothing but a black bikini, while Kelly gestured his middle finger towards the camera in a leather pant/kilt dress. One week later, a colored behind-the-scenes photo was released, showing the singers in the same garments as the previous image, while Kelly stood with his legs spread apart as Gaga crawled in between them.
However the bundle as well as the video was not released in December; Gaga later released a statement in her social networking website Little Monsters that the video was delayed since the singer was given just one week to plan and complete it, like the video for "Applause". She added that it was unlike her since she preferred planning her videos over a period of time to honor her creativity. The video remained unreleased despite Gaga releasing the official video for follow-up single, "G.U.Y." On June 19, 2014, celebrity news website TMZ published previously unseen footage from the video showing sexually suggestive scenes. In one of them, Kelly, playing a doctor, reaches under a sheet covering a naked Gaga, causing her to moan. In another scene, Richardson appeared to be photographing Gaga as she writhes on newspapers. According to the TMZ report, the video was cancelled possibly due to weariness and fear of backlash for Kelly's past trial on child pornography, as well as sexual harassment claims by several models who had previously worked with Richardson.
Live Performance
Edit
It was first announced that Gaga would perform on the fifth season finale of The Voice on December 12, 2013, with the assumption that R. Kelly would accompany her during a performance of "Do What U Want". However, a television commercial aired on December 17, the evening of the finale, teased that "Christina joins Lady Gaga for one epic performance"; they sung "Do What U Want" as the final performance of the evening. Both appeared in "matching clothes" with few differences, Gaga wore a "jumpsuit all sharp, off-kilter angles", while Aguilera was dressed in a "slinky-sexy gown emphasizing her smooth curves". A writer from Rap-Up praised it as an "over-the-top" performance. Los Angeles Times writer Amy Reiter commended the pair's vocal ability as "triumphant". On the 2014 ArtRave: The Artpop Ball tour, the song was performed after "Paparazzi". Gaga perched atop a silver chair shaped like a hand, and sang the song. Kelly's verses were removed from the live rendition. Eric Leijon from The Gazette praised the song saying that it had "earned [its] place alongside crowd pleasers 'Paparazzi' and 'Bad Romance'" from Gaga's catalogue of hits.
Remix featuring Christina Aguilera
Edit
| | | |
| --- | --- | --- |
| " | ""I was really excited because The Voice called and said they wanted me to perform on the finale, and I obviously can't refuse. Such an amazing show! And I said I want to know if Christina wants to do it with me!" | " |
An alternate studio version of "Do What U Want" featuring Christina Aguilera was released on January 1, 2014; it marks their first collaboration. The song was released in the US, Canada and Mexico on January 1, 2014 and then released a day later worldwide. On December 24, Aguilera tweeted that she was "working on something special" and attached an image of her singing in a recording studio. The session took place in the living room of singer Carly Simon's home at Martha's Vineyard, with assistance from Oak Bluffs-based producer Jimmy Parr. The following week, it was announced that a revised studio version of "Do What U Want" would be released, where the original vocals by Kelly are substituted for a verse performed by Aguilera.
The final product was digitally released shortly after midnight on January 1, 2014. On February 11, 2014, Gaga uploaded four other remixes of the version with Aguilera, all commissioned by Interscope and mixed by Steven Redant. The Aguilera remix received generally favorable reviews from music critics; Melissa Locker from 
Time
 felt that the re-recorded version of the track "will allow more sales of the track without the moral dilemma that comes with supporting Kelly", who had previously been charged and acquitted for child pornography in the 2000s, and also complimented Gaga as a "savvy marketer" for releasing "two versions of a hit song with two different megastars".
Image Gallery
Edit
Ad blocker interference detected!
Wikia is a free-to-use site that makes money from advertising. We have a modified experience for viewers using ad blockers

Wikia is not accessible if you've made further modifications. Remove the custom ad blocker rule(s) and the page will load as expected.