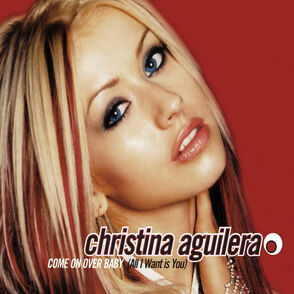 Come On Over Baby (All I Want Is You) is the last single from Christina Aguilera's self-titled album.
It was released by RCA Records on September 26, 2000 by RCA Records and was the first song where she was given significant creative control.
The song was written by Johan Aberg, Paul Rein, Christina Aguilera, Ron Fair, C. Blackmon, R. Cham, E. Dawkins, Shelly Peiken and Guy Roche. A re-recorded version of the song included a rapped verse written by Christina.
Lyrically, the song is about Christina eyeing a prospective boyfriend.
Song Background
Edit
Just like the second single "What a Girl Wants," a new remixed and re-recorded version of "Come on Over Baby (All I Want Is You)" was released as a single rather than the original album version.
The album version (which had been known simply as "Come on Over (All I Want Is You)") was seen as unsuitable for single release.
Since the single had been originally produced and written by Paul Rein and Johan Aberg in October 1998, the pair were given the first opportunity to change the song.
Christina and Ron Fair (her mentor) were not impressed with their efforts, and turned to the producing team known only as Celebrity Status in May of 2000.
Song Composition
Edit
The single version of "Come on Over (All I Want Is You)" was transformed into "Come on Over Baby (All I Want Is You)" with new and more sexual lyrics, a chord progression for the song's b-section, a bridge, a "rap" from Christina, a new mid-song dance breakdown and more powerful vocals by her were also added.
The song also features limited new elements from Guy Roche and Shelly Peiken. As the original album version does not have a bridge, it had previously been performed live with an interlude that sampled the disco song "Got to Be Real" by Cheryl Lynn.
When the original songwriters of "Got to Be Real" were contacted for permission to sample their song, they denied clearance.
Instead, Christina's team added a part to the song referencing "What a Girl Wants":
"You give me, what a girl feels, what a girl likes, what a girl needs, what a girl wants."
Christina helped write the song's controversial and slightly sexual rap section from the re-recorded version.
This rap (and also a section in the second verse in which Christina discusses sexuality and a man's hands on her body) caused Radio Disney to ban the song initially, as it had done to "Genie in a Bottle."
The original album version of the song was allowed to be played and an edited version of the song (which removed the second verse and the rap) was also given some airplay.
Reportedly, the edited single version received more airplay on the station than the album version of the song.
Music Video
Edit
Background
Edit
The video was directed by Paul Hunter. It was shot from June 12–15, 2000.
It premiered in late July on MTV's "Making The Video" and was the last music video from Christina's debut album.
The image that Christina used in the video was also used for "Mi Reflejo" and her first headlining tour in 2000.
The video featured a racier image from Christina which is quite different from her previous singles "Genie in a Bottle" and "I Turn to You."
Unlike her previous singles, she had red streaks in her hair and wore tighter clothing.
When the music video for "Come on Over Baby (All I Want Is You)" aired on the Disney Channel, some of the scenes were edited out and some of the sexual lyrics were censored.
Video Synopsis
Edit
It begins with Christina talking on the phone with her boyfriend, telling him to come over her house.
After she hangs up the phone, the scene breaks out into her wearing a white midriff and white pants with red streaks in her hair.
In the next scene, Christina has loose braided pigtails, a blue midriff and blue & white checkered pants.
She is in her bedroom when suddenly she and her backup dancers begin dancing in front of a white background. The male dancers come out and begin dancing with the female dancers.
After that, Christina and her then-real life boyfriend Jorge Santos dance together with her backup dancers in the scene where everyone is wearing yellow and green outfits, first in a yellow-green background followed by a yellow-orange background.
The next scene is where her dancers dance on chairs in white open-faced cubes, intercut with Christina singing in a blue-walled background and a white drapery background.
Christina and her backup dancers then dance in front of a white background. It cuts into a scene where she walks down a flight of steps in a red room with her backup dancers on each step.
They begin dancing again and Christina's backup dancers hold up pieces of puzzle paper that shows her face.
A second version of the video was released for the Spanish version of the song "Ven Conmigo (Solamente Tú)."
In this version, most of the scenes of the first version choreography can be seen, but Christina appears singing next to a red chair.
Video Reception
Edit
The music video was an instant hit, shooting to #1 on MTV's "Total Request Live (TRL)."
Chart Performance
Edit
"Come on Over Baby (All I Want Is You)" became Christina's third number-one hit on the U.S. Billboard Hot 100 and it was certified Gold by RIAA for physical sales in excess of 500,000 units.
It spent twenty-one weeks on the Hot 100, four of which were atop the chart and ranked thirty-eighth on the Hot 100's 2000 year-end charts.
The Spanish-language version of the single "Ven Conmigo (Solamente Tú)" was also a huge Latin music success becoming Christina's first number-one single on Billboard's Hot Latin Tracks chart.
After receiving a strong push from the record label and Christina herself, the single became a big hit for her with many considering it a "comeback" due to the slight underperformance of her previous single "I Turn to You."
Not only did the single hit #1 on the Billboard Hot 100 and had stronger airplay than the previous single, but the music video also became her most popular video to date, becoming a huge #1 hit on TRL and receiving strong airplay on MTV, VH1 and even Disney and Nickelodeon.
"Come on Over Baby (All I Want Is You)" reached the top ten in the UK, Japan and Australia and the top twenty in Canada, but it was less successful in Continental Europe, reaching the top forty in most markets.
The single became yet another international success for Christina, reaching #2 in New Zealand where it stayed on the charts for 13 weeks. The single was also certified Platinum in Australia.
The song stayed at #1 on Billboard for four weeks and stayed on the Australian charts for 20 weeks. The single has sold over 3.500.000 copies worldwide.
Critical Reception
Edit
Stephen Thomas Erlewine of Allmusic highlighted the English version of the song on Christina's self-titled album.
CDNOW senior editor Eliseo Cardona wrote about the Spanish version of "Come On Over," saying:
"Indeed, the overly literal Spanish lyrics make for both a good laugh and a better yawn. This point is unwittingly made on "Ven conmigo (Solamente tú)," the translation of "Come on Over (All I Want Is You)". If Spanish pop seems to make no sense at times, than this takes nonsense to the next level."
A complete opposite opinion came from Wall of Sound editor Kurt B. Reighley; to him it sounds "especially sassy en Español." Parry Gettelman of Orlando Sentinel praised vocal calling them "out-of-my-way."
SunSentinel music writer Sean Piccoli wrote:
"Ven Conmigo (Come With Me) borrows its bounce from the better Whitney-Mariah numbers."
Live Performances
Edit
Christina performed "Come on Over Baby" in her tour Christina Aguilera: Live in Concert, an acoustic version on the Stripped World Tour and a jazz version on the Back to Basics Tour.
At the end of her performance, Fred Durst walked onstage and performed part of his band's song "Livin' It Up" with Christina. During the ceremony, Christina wore a revealing black outfit with black heels.
After eliciting charged reactions from his fans, Durst stated:
"I already told you guys before, I did it all for the nookie, man."
The feud died weeks later & Christina denied his statement, saying Durst "got no nookie."
Personnel
Edit
Written by Celeberity Status
Produced by Ron Fair
Vocals by: Christina Aguilera
Original album version written by Johan Aberg
Ad blocker interference detected!
Wikia is a free-to-use site that makes money from advertising. We have a modified experience for viewers using ad blockers

Wikia is not accessible if you've made further modifications. Remove the custom ad blocker rule(s) and the page will load as expected.