"Bionic" is a song recorded by American recording artist Christina Aguilera, taken from her sixth studio album of the same name (2010). The song was written by Aguilera, Kalenna Harper, John Hill and Switch, while production was done by the latter two. The track is an electronic number and has garnered comparisons to works by artists including Santigold and Janet Jackson. Aguilera performed "Bionic" as an introduction to "Not Myself Tonight" on a number of occasions, including the 2010 MTV Movie Awards, The Today Show and VH1 Storytellers. Upon the release of Bionic, the song peaked on the USBillboard Hot 100 at number 66, and on the Korean Gaon International Download Chart at number 23.
Music Video
Edit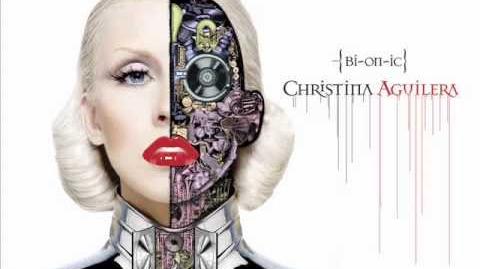 This is the moment that I take over your mind frame Step into the picture that I paint using my brain game I'll elevate you so high I'll give you a migraine Over and over, put it on replay, 'til you're insane This is a rollercoaster that's about to be long gone Once you jump in, we're gonna get up on the lump and hold on Just let it go, give it up, allow yourself to transform Follow me, follow me to a place I know of no return
Are you ready, ready, ready to go-g-g-go? Are you ready, ready, ready to go-g-g-go?
[Chorus x2:] Bionic, take it supersonic, eh I'm bionic; hit you like a rocket, eh-ay-yeh Bionic, so damn bionic, eh Gonna get you with my electronic, supersonic rocket, eh
I-I-I-I-I am the future, put it on you like a hurricane Call me the supernova that's taking over all time and space I'm testing your dimension, can't keep up with what I create I'll break your concentration, imagination with what I make Many times imitated, not duplicated; can't be replaced Na-na-now, lemme spell it out, everybody can shout my name; X-X-X-T-T-T-I-I-I-N-N-N-A (Say) X-X-X-T-T-T-I-I-I-N-N-N-A-(say)-A-A-(say)
Are you ready, ready, ready to go-g-g-go?
[Chorus]
(Bi-on-ic)
[Chorus x2]
Eh-ay-yeh, oh oh oh, eh-ay-yeh [x7]
Image Gallery
Edit
Ad blocker interference detected!
Wikia is a free-to-use site that makes money from advertising. We have a modified experience for viewers using ad blockers

Wikia is not accessible if you've made further modifications. Remove the custom ad blocker rule(s) and the page will load as expected.